Experience 225 Years of Exciting Military History in Ystad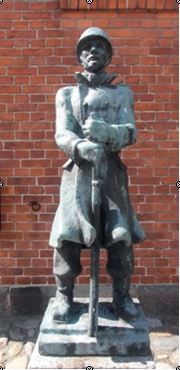 Welcome to the Military History Museum and a tour through time, portraying almost 225 years of military life in and around Ystad between the years 1773 and 1997.
You will gain insight into the cooperation that has existed between the military and Ystad townsfolk; the craftsmen, traders, musicians and artists. The museum is also hosting various art works with military themes done by local artists. Please see the layout map in this pamphlet. Reference numbers (in brackets) correspond to exhibits.
Outside the museum, before you came in, you will have already met a National Service Reservist, sculpted by the Swedish artist, Jonas Fröding. The statue, called, in Swedish" Smålänningen" – "The Soldier from Småland County" was unveiled on Air Defence Day in Malmö in 1956.